Hart Pioneer Centre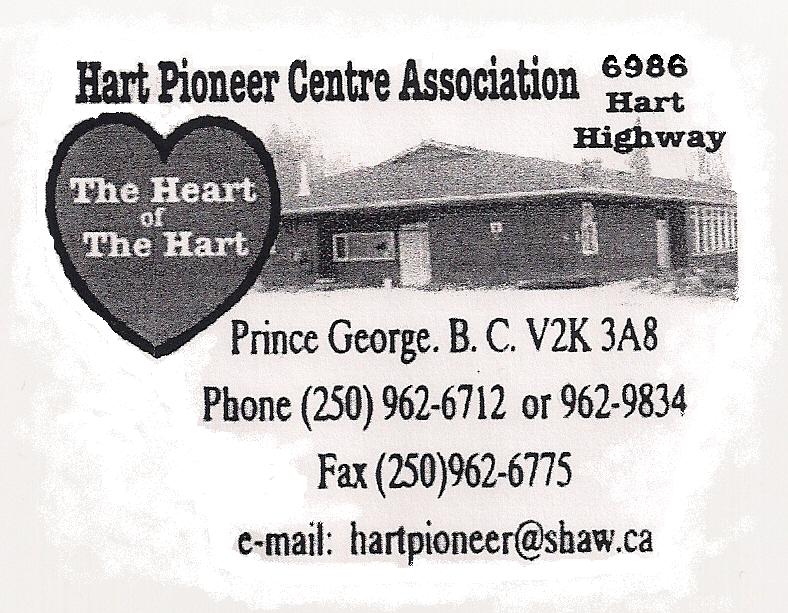 Welcome to the Hart Pioneer Centre Association!
At the Hart Pioneer Centre, we welcome you to drop in for a cup of coffee or hot lunch in a friendly atmosphere where we hope you will feel at home.
We offer low cost meals for seniors and guests. A full course meal is available Monday to Friday between 11:30 am and 1:30 pm. Come in and enjoy homemade pies, cakes, squares or biscuits at any time.
Membership is available to those 50 years of age and better at $20.00 a year.
Schedule of Events:
PANCAKE BREAKFAST … first Sunday of each month at 9:00 am
ROAST BEEF SUPPER … 3rd Sunday of each month at 5:00 pm
COUNTRY WESTERN DANCE … 2nd & 4th Saturday of each month between 8:00 pm and midnight. $10.00 each. Must be 19 years or over. Lunch included.
CRIB TOURNAMENT … 3rd Sunday of the month starting at 1:00 pm. $5.00 entry fee.
FREE BLOOD PRESSURE CLINIC … 4th Thursday of the month.
T'AI CHI … Monday, Wednesday & Friday mornings at 9:00 am
LINE DANCING … Monday, Wednesday & Friday at 10:00 am
Computer Station and much more!